Have you had your flu shot yet?
Northern Queensland Primary Health Network (NQPHN) encourages the community to take control of their health and ensure they are up-to-date with their vaccinations so they have the best protection possible against preventable disease.
Help stop the flu in 2022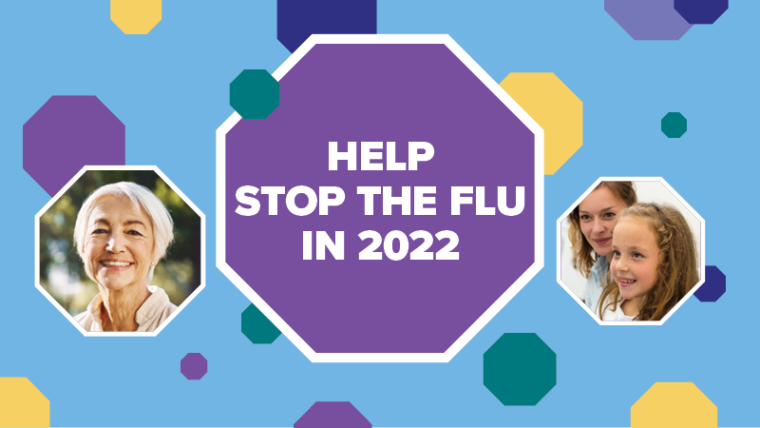 Annual vaccination is the most important measure to prevent influenza and its complications. The influenza vaccine is recommended for all individuals aged 6 months and over.
Influenza is a highly contagious viral infection that can cause widespread illness and deaths every year.  
This year, it's even more important to get the influenza vaccine as we are more vulnerable to influenza. This is due to lower recent exposure to the virus and lower uptake of influenza vaccines in 2021. With international borders reopening, it's likely we will see more influenza in 2022.
Visit the Australian Government Department of Health's Help Stop the Flu in 2022 webpage for more information.
Who should get an influenza vaccine?
Vaccination experts recommend influenza vaccination for all people aged 6 months and over.
Under the National Immunisation Program, free influenza vaccines are provided to the following groups who are at higher risk of complications from influenza:
children aged 6 months to less than 5 years
all Aboriginal and Torres Strait Islander people aged 6 months and over
people aged 6 months and over with certain medical conditions that increase their chance of severe influenza and its complications
pregnant women (at any stage during pregnancy)
people aged 65 years and over.
When the influenza vaccines will be available
Free influenza vaccines under the National Immunisation Program became available in April 2022. Check with your immunisation provider to find out when they will have the vaccine available and when you can book in to get the vaccine.
Book your appointment to get vaccinated from mid-April to ensure you have the best protection at the peak of the season (usually June to September). However, it's never too late to get vaccinated as influenza can spread all year round.
Free influenza vaccines will be available from GPs, community health clinics, and eligible pharmacies.
To locate a service in your area, you can search the National Health Services Directory.
If you are not eligible for a free influenza vaccine, you can buy the vaccine from your GP, a pharmacy, or another immunisation provider.
Influenza and COVID-19 vaccination
The influenza vaccine and COVID-19 vaccines can be safely given at the same visit.
The best way to protect yourself against getting both infections this winter is to make sure you've had your influenza vaccine and are fully vaccinated against COVID-19, including any recommended booster doses.
When you book in for your influenza vaccination, talk to your vaccination provider about whether they can administer both vaccines.
The Australian Immunisation Register
The Australian Immunisation Register records vaccines given to all people in Australia.
Your immunisation provider must report all influenza vaccinations to the Register. This includes some personal information such as your name, date of birth, contact details, and your Medicare card number.
Find out how we manage this data in the Privacy Policy for the Australian Immunisation Register.
What is the flu?
The flu is caused by the influenza virus. There are many different strains and they can change every year.
The flu has different complications than the common cold and can lead to other health concerns for those infected including:
More common side effects
bronchitis
croup
pneumonia
ear infections
Other health complications
heart and other organ damage
brain inflammation and brain damage
death.
The flu is easily spread from person to person. Most infections happen in winter.
Flu symptoms
Runny nose or sneezing.
Cough or sore throat.
Fever and chills.
Headache.
Body aches.
Vomiting and diarrhoea (more common in children).
Symptoms usually start about one to three days after catching the flu and can last for a week or more. Some people can be mildly affected, while others can become seriously ill.
A common cold is not the same as the flu, although some of the symptoms are similar.
Who is at risk?
The flu can affect people of all ages.
People at highest risk of being hospitalised with flu are:
babies
people more than 65 years old
Aboriginal and Torres Strait Islander people
pregnant women
people with long-term medical conditions
people who have weakened immune systems
people who are obese
people who smoke
people who haven't been vaccinated against the flu.
Long-term medical conditions that can lead to you having a serious case of the flu include:
heart disease
lung disease
nervous system conditions like multiple sclerosis
liver and kidney disease
diabetes
blood diseases.
How the flu spreads
The flu is easily spread and very infectious, and occurs:
when an infected person coughs or sneezes, and you breathe it in
through direct contact with fluid from an infected person's coughs or sneezes
by touching a contaminated surface with the flu virus on it, and then touching your mouth, eyes, or nose.
The flu spreads easily through families, workplaces, childcare centres, and schools.
If you have the flu, you can help stop the disease spreading by:
staying away from childcare, school, work or other places where they could spread the infection until you are well
covering your coughs and sneezes
washing your hands often.
Diagnosis
If you have a health concern one easy way to gain a better understanding is to use the Health Direct Symptom Checker.
Your doctor can diagnose the flu by:
checking your symptoms
asking if you've been in contact with someone who has the flu
swabbing your nose or throat or taking a blood sample to test for the virus.
If you have influenza your doctor may be required to notify your state or territory health department.
Treatment
Mild flu gets better on its own without any treatment.
You can relieve the symptoms by:
resting – stay home from work
drinking fluids, particularly water
taking paracetamol to reduce pain and fever
using decongestant medicines.
If diagnosed, you may be given medicines which if given early can help shorten how long illness lasts.
Antibiotics should not be used to treat colds or the flu, which are viral — not bacterial — infections.
People with a serious case of the flu may need to go to hospital. Even with treatment, some people with severe flu may die.
People should seek medical advice if you experience:
difficulty breathing
shortness of breath
chest pain or severe abdominal pain
confusion
sudden dizziness
severe vomiting or vomiting that won't stop.
If you're getting concerned about your health, talk to your GP.
Call 13 HEALTH (13 43 25 84) for free 24-hour assistance from a registered nurse.
A pharmacist can also help with medications that will aid symptoms like body pain or a cough.
If you're feeling really unwell, call triple zero (000) for assistance.
10 May 2022
Latest News
Read the latest news from NQPHN.
See all news