COVID-19 Vaccine Rollout
The Australian Government has a plan to provide the COVID-19 vaccine to Queenslanders, working alongside the Queensland Government.

Find out more about the vaccines, the rollout strategy and how to book an appointment to be vaccinated, as well as other important COVID-19 information you need to know.
COVID-Ready website for consumers now live
A new website to help prepare Queenslanders for a COVID-19 outbreak is now live.

Get COVID-Ready by preparing a readiness kit and developing a COVID-19 care plan, and check out other resources.
COVID-19 Vaccine Clinic Finder
You can do this for yourself or another person – click on the Vaccine Clinic Finder image below: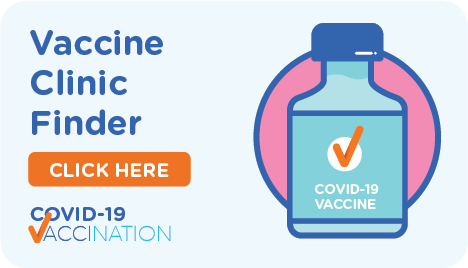 Learn more about COVID-19 vaccines and the vaccination program.
Where to get tested for COVID-19
Testing and Fever Clinics, as well as GP Respiratory Clinics, are specialist clinics for people who have symptoms of COVID-19.
COVID-19 tests in Australia are FREE for tourists, visitors, and residents.
Northern Queensland Primary Health Network's (NQPHN) Vaccine Works campaign spotlights the region's vaccinating general practices and pharmacies and focuses on the primary care sector's highly successful role in increasing COVID-19 vaccination rates in North Queensland.
Click on the locations below to read about the amazing work being done by local primary health providers to vaccinate our communities :
COVID-19 vaccines information portal
The Australian Government has created a portal containing news and information about the development, approval process and plans for rolling out COVID-19 vaccines.
The Queensland Government is working alongside the Australian Government to rollout the COVID-19 vaccine to all Queenslanders. The Queensland rollout plan aims to:
protect our most vulnerable community members
protect and maintain our robust health system
contain COVID-19 at our international borders by protecting priority frontline health care, border, and quarantine workers.
VIDEO: COVID-19 vaccine information
VIDEO: COVID-19 Vaccine rollout plan (in languages other than English, including Auslan)
12 January 2022
Upcoming events
Upcoming events around our region.
Latest News
Read the latest news from NQPHN.
See all news
Search form