Our Region, Our People: Meet Ryan
Published 27 September 2021
Ryan headed for a brighter future after completing behaviour change program.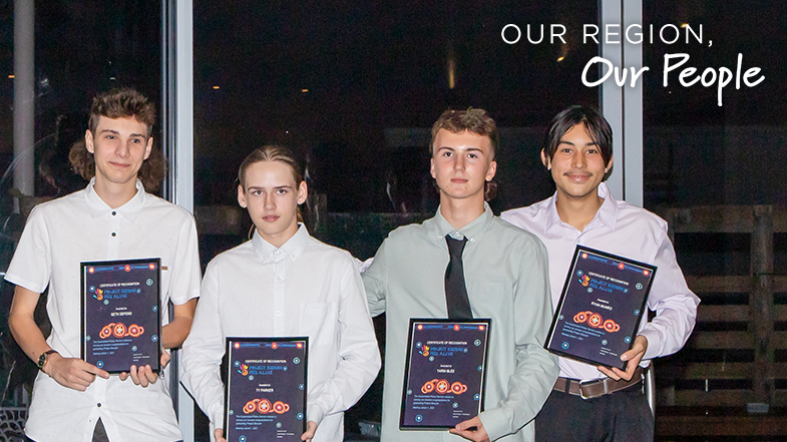 Fifteen-year-old Ryan has had a tough past to say the least, but the young man he is today is completely different to the troubled teen he was a year ago. 
Ryan experienced significant trauma related to past domestic violence and was becoming increasingly worried that he was turning into his father. 
In the past, he was not engaged at school and his attendance and participation were extremely poor. Instead of attending school, he would regularly engage in joy riding and hooning with older friends. He was also self-medicating – often misusing his anti-depressant medication.
These behaviours are what led the Project Booyah Mackay staff to visit his house, and this is when his life turned around for the better.
Project Booyah is a Queensland Police Service (QPS)-led mentoring program which has an emphasis on empowering disconnected youth to enhance their life skills, so they become better members of their community.
The intervention program is for young people who have either committed offences or are considered at-risk of committing offences because of their behaviour.
The program, centred around cognitive-based therapy, is designed to make young people examine the decisions they make before they act on them.
QPS Inspector and State Manager Booyah and Youth Programs Michael Volk said the behavioural management program helps improve the lives of youth in all areas as it aids in developing personal maturity.
"The program has three main parts – behavioural change, adventure-based learning, and vocational pathways," said Inspector Volk. 
"The behavioural change component consists of 18 sessions and helps to develop mature thinking.
"The adventure-based learning component links the behavioural change lessons to real life examples. In Ryan's case, due to his anger management issues and a background of domestic violence, he was linked up with a boxing program.
"The vocational pathway component provides young people with training opportunities to assist with future employment – for example, obtaining a white card, RSA, first aid certificate, etc."
Prior to joining Project Booyah, Ryan describes his life as difficult.
"I was continually making bad decisions, getting in trouble a lot, and would get suspended from school – I didn't think I was going to make it to the end of year 10," said Ryan.
"I got the wakeup call I needed when the Project Booyah staff came to my house – that's when I decided to join the program.
"I've now graduated from the program and looking back on it, the main highlights for me were the new friendships I made and joining a boxing club.
"Taking up boxing has really helped with my anger and discipline and I've continued to box since graduating.
"I'm hoping to enter my first competition soon."
In Ryan's day to day life, he still applies what he learnt and is happy that he can now think before he acts, even when he's angry.
Ryan says his life has improved in more ways than one – he's become healthier and fitter, he has a new job which he enjoys, he is in a healthy relationship with a girl from school, and his mental health has improved so much that he no longer requires his anti-depressant medication.
"I'm about to finish year 10 which is something I didn't think would be in my future," said Ryan.
"I even got an A in Maths this semester!"
Project Booyah is based on crime and victim outcomes, however Northern Queensland Primary Health Network's (NQPHN's) primary focus was on adolescent mental health outcomes.
Inspector Volk said the program covers areas of resilience, positive image, drug and alcohol, impulse control, anger management, conflict management, moral reasoning, suicide prevention, self-esteem, and healthy relationships.
"These programs, when delivered with a focus on adolescent mental health, meet outcomes for both NQPHN, QPS, and the Queensland Government, leading to these young people living happier, healthier, longer lives," said Inspector Volk.
"The most important benefit is for young people to learn to examine their decisions before they act on them.
"By learning a new way to think, they save themselves from bad decisions."
Ryan joined the program because he needed help turning his life around.
"It's a fun, exciting program which helped me grow up and gain self-confidence," said Ryan.
"I would definitely recommend Project Booyah to other young people going through difficult times."

Last updated: 27 September 2021
Search form