Our Region, Our People: Meet Karen
Published 29 September 2021
Local hairdresser making a difference in her community through meaningful conversations with clients.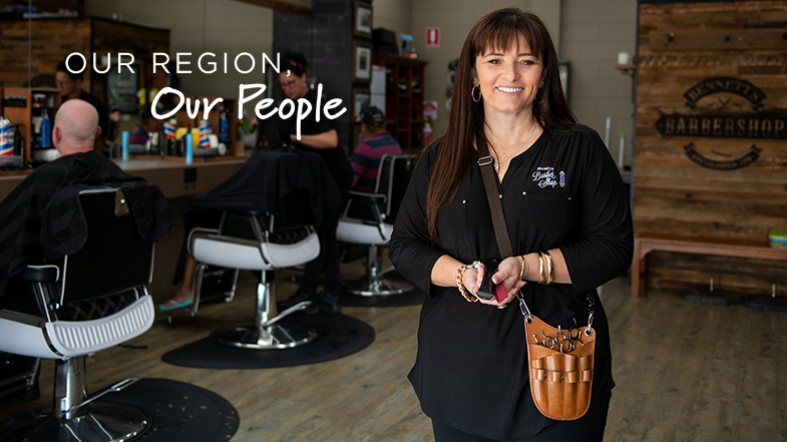 Karen Bennett has been a hairdresser for 31 years and owns two barbershops in Townsville – Bennett's Barbershop and Industry Barbershop. Her barbershops have a reputation for being a warm, welcoming space where no topic is off limits.
The clientele of both barbershops is diverse. On any given day Karen and her team can be found attending to soccer mums, kids, tradies, Australian Defence Force personnel, retirees, business owners, sportsmen, and more.
Karen and her team understand that their clients trust in them and because of this, they're at the forefront of their community when it comes to suicide prevention.
"We liaise with people from all walks of life every single day and when a client sits in our chair, it is about much more than just a haircut, we connect on an emotional level as well," said Karen.
"For this reason, I had my team attend the COmmunity Response to Eliminating Suicide (CORES) Suicide Prevention Training – I knew all 15 of us would benefit from it."
CORES Queensland is a not-for-profit community organisation funded by Northern Queensland Primary Health Network which focuses on suicide prevention.
CORES Queensland Coordinator Ross Romeo said at the heart of the program is the one-day suicide intervention training.
"The training is designed to teach people the skills to recognise the early warning signs of someone at-risk whilst also teaching the practical skills needed to know what to say, what to do, and where to go for help," said Ross.
"The people trained are not there to solve the problems of the person at-risk, their role is to recognise warning signs and connect the person at-risk to available services.
"This non-clinical peer-support model of training forms part of the strategies communities can use to tackle suicide."
Karen said her team can quickly build a rapport with clients where the clients confide in the barbershop team.
"Our clients often talk to us about things they wouldn't even tell their partner or best mate.
"Sometimes our clients want specific advice, but most times they just want a safe space to talk and be heard."
Karen describes the CORES training as invaluable. Her team learnt how to recognise warning signs of suicide and how to say the right things at the right time. They also learnt how to ask the direct questions needed and provide the correct response, including suicide prevention resources and referrals to services. 
"Just two days after we completed the training, one of my team members had a vulnerable client sit in her chair and open up to her," said Karen.
"The client indicated that they were not in a good place emotionally, were struggling to cope, and didn't know where to turn.
"We were able to immediately, and discreetly, provide them with one of the CORES referral cards containing contact numbers for support services.
"Completing this training is absolutely going to save lives."
The one-day CORES training is available to community members 15 years and over, any organisation, service provider, workplace, school, etc. CORES Queensland currently has programs in Burdekin, Hinchinbrook, Innisfail, Townsville, Charters Towers, and the Whitsundays.
Karen said she would 100 per cent recommend that everyone, especially those in the personal service industry, attend the CORES Suicide Prevention Training.
"The more people in our community that know how to appropriately respond to and assist people in crisis, the better off we all are," said Karen.
"We can all play a part in reducing the stigma surrounding mental health and suicide.
"I am so grateful to Ross and his team for delivering this training course. My team and I can now confidently have those difficult conversations around mental health, anxiety, and suicide awareness."
Between 4,500-5,000 people have been trained in Queensland and, on average, every fourth person trained has used their skills to intervene and help a person at-risk.
The training empowers community members feel more equipped to help North Queenslanders live happier, healthier, longer lives.

Last updated: 30 September 2021
Search form