NWRH providing mental health support to North Queenslanders
Published 28 April 2021
North and West Remote Health (NWRH) commenced the provision of the Mental Health Integrated Complex Care (MHICC) services in April 2020 with funding provided by Northern Queensland Primary Health Network (NQPHN).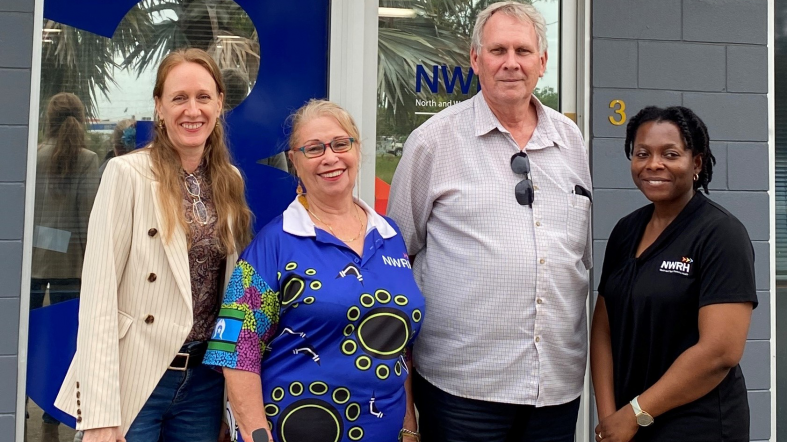 "NWRH has achieved a lot in the first 12 months of providing the service, having completed more than 6,519 client engagements and making the transition to this new program seamless for existing and new clients," said NWRH Chief Executive Officer John Cain.
"We had clinicians ready to see clients from day one and we continue to maintain service levels such that there is currently no waiting list."
The MHICC services are designed to support adults experiencing severe, complex, and chronic mental illness. It offers a wide range of services including complex care coordination, family support, and recovery planning. The MHICC Mental Health Nurses apply a stepped care approach based on clinical measures with clients able to move between mental health programs as and when required.
The MHICC program relies on collaboration between general practitioners and service providers to provide wrap-around, holistic care. Mental Health Nurses have built strong connections with health professionals and GPs across the Townsville region. It has supported a vital link in complex mental health care provision.
"It is great to work together to get the best outcomes for our clients and we really appreciate the engagement from GPs and other service providers," Mr Cain said. 
Twelve months on, NWRH has a team of highly skilled and credentialled Mental Health Nurses offering services in a range of communities including Townsville, Home Hill, Ayr, Charters Towers, and Ingham. The Mental Health Nurses are now providing services in Hughenden and Richmond which demonstrates the level of support that NWRH can provide across the region.
If any North Queensland based GPs or service providers require support in referral pathways or have any questions in relation to the MHICC program, please contact NWRH at the details below:
Contact: Marianna Masiorski, NWRH Integrated Mental Health Manager
Phone: (07) 4781 9300
Email: Marianna.masiorski@nwrh.com.au
Last updated: 28 April 2021
Search form